Articles
In this exclusive audio interview Emmy Winner Charlotte Robinson host of OUTTAKE VOICES™ talks to Shahid Manning, Founder and Executive Director of Millennia Scope Entertainment Foundation about their upcoming gala for the LGBT entertainment community. The first annual Millennia Scope Gala is a post Oscar ceremony celebration event honoring the best, brightest and emerging LGBT talent shaping entertainment in Hollywood and takes place on Sunday February 22nd at Los Globos in Los Angeles, California. During this unprecedented fabulous event Millennia Scope will acknowledge the contributions of significant players whose creative work raises awareness and rewrites a modern image of our LGBT community in the world of entertainment and well beyond. Honorees include Martin Gero, Creator "LA Complex" (CW), Ben Cory Jones, Creator and Writer "Bro's" (HBO), Producer Toni Newman "Heart of A Woman" and Actor Jeffrey Tambor, "Transparent" (Amazon Prime). We talked to Shahid about making the Millennia Scope Gala an annual event and his spin on our LGBT issues.
When asked what his personal commitment is to LGBT civil rights Manning stated, "I'm a gay black man. I am 100% committed to it. My mother taught me in the seventies that 'it doesn't matter what other people think, it matters what you think of yourself. I love you for who you are.' So that's just who I am and of course as a member of the LGBT community I firmly believe we should have the same rights as any other citizen in this country. I am actually proud that we have more states than not who have equal marriage rights and that's the way it should be. Equality, equality, equality, that's what this country is suppose to be about anyway."
Shahid Manning is a graduate of Howard University's theatre and business schools. A former corporate executive, Manning moved from New York to Southern California to become an active participant in the theatre and film community in Los Angeles. He has worked in a number of capacities within the entertainment industry uniquely promoting LGBT media and film. In 2009 Manning launched Millennia Scope Entertainment Foundation a 501(c)(3) non-profit organization that supports independent filmmakers of LGBT visual media. Millennia Scope is dedicated to fostering the careers of a community of artists traditionally underserved and underrepresented in mainstream media, who embody diversity, innovation, uniqueness of vision and the next generation of talented filmmakers. Their important fundraising event DIVERSIFYING HOLLYWOOD: 1st Annual Millennia Scope Oscar Gala takes place February 22nd in LA.
For More Info & Gala Tix: msefoundation.org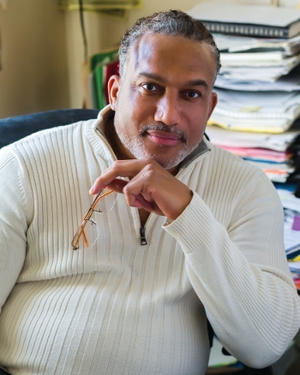 Shahid Manning is the founder of the not-for-profit Millennia Scope Entertainment Foundation, aiming to dispel homophobia by giving LGBT filmmakers a leg up in the entertainment industry.
How did Millennia Scope come to be?
I knew I wanted to come to Hollywood and try to put LGBT media on the map. That was at a time when it was very unpopular. Fifteen years later, we are in a situation in America where this is changing dramatically. We're now poised to be right in the midst of what I'm calling a renaissance, an explosion of LGBT media. That's what the nonprofit does for filmmakers of LGBT media; whether you're straight or gay, we're trying to be a location where filmmakers can come together and share their assets.
What's the main goal? 
Essentially, we want to eradicate homophobia using television and film, and as we get more funding, we'll have more programs. We do everything from branding to sponsorship to classes. We help filmmakers develop. The big difference between us and other entertainment nonprofits is we're actually building a pathway to the mainstream marketplace and the buyer community.
How can people get involved?
It's all about filmmakers, so they can contact us and see what we have available in terms of grants. Individuals who want to contribute can donate money, they can donate their time, they can decide to participate on the board—all of those things are welcome. They can contact us for information if they need help.
What advice do you have for filmmakers making LGBT media?
Don't stop! Stay in there and tell our stories so people can see who we really are from our perspective—good, bad, and indifferent. Images matter and help structure who we are, our morals and values, both individually and collectively. We need to get rid of this homophobia issue and get moving on to the fun and games!
What are your favorite LGBT performances now?
"The L.A. Complex," written by a Canadian man [Martin Gero]. It had two characters: one was a gangster rapper and another was a producer who ended up being his partner. It was so well done; the tension, the evolution of trying to figure out his sexuality and his identity and how he was raised—it was amazing. It should still be on television. On "Empire" there's a gay character, and a gay A-list director, Lee Daniels, created it. It's got all these wonderful textures going on and [Daniels] really does integrate sexuality so it's not the focus; it's expert. Of course the character in "Transparent."Jeffrey Tambor is doing a fantastic job on the transgender front—and so is Laverne Cox!
Shahid Manning is the Executive Producer of Film Erotic Professionals which is based off Chapter 7 (Erotic Professional Years) in book I Rise By Toni Newman. Erotic Professionals will be Directed by Keith Holland and other Producers are Jay Gira and Alton Demore. The Head Writer is George P. Saunders. The Casting Director is Dea Vise of Billy DaMota Casting. The Film is the first for the MSE Foundation that Shahid Manning represents.
Shahid Manning is Executive Director of Millennia Scope Entertainment Foundation (MSEFoundation). Millennia Scope Entertainment Foundation represents a commitment to using the power of television and film to help eradicate the negative stereotypes and inaccurate representations of the Gay Lesbian Bisexual Transgendered and Queer (LGBTQ) community worldwide.
In an era when LGBTQ lives increasingly intersect with mainstream media, film and broadcast media are powerful catalysts for change. The entertainment industry continues to face challenges supporting the production of gay film and television. Financially many gay films can't get funding. Practically, as a gay man, actor, and activist I have seen how inaccurately hollywood has portrayed gay life and minimized gay characters storylines.
Here is the Interview with Producer Shahid Manning:
1)Why did you agree to be a Producer on the Film The Erotic Professionals?
I believe in the truth. The foundation's goal is to support quality GLBT tv and films. Quality includes our truth. This film will be powerful and truthful and I like that very much. I also liked how the story focuses like a lazer on why the lead African American transgender character turned to the exotic arts (prostitution) because rejection by the business world solely on her gender. This story will begin to show society what a lot of African American Transgenders face in our society.
2)Why will this Film The Erotic Professionals be so unique?
The film is unique in that audiences haven't been privy to this reality for many transgender females. From what i understand, the transgender experience in America is very unique and almost invisible in our society. We all need to see more true non stereotypical transgender stories.
3)Have you read the Book I Rise by Toni Newman and what was your opinion?
My thought was wow for this transgender women who overcame many obstacles just to be true to self. I thought what strength it takes for an individual to become the women she feels she is on the inside in the face of such a horrible possible reality.
4)How long have you been producing films and if first film Why this film?
I've been producing short LGBT films for years. This will be the first feature LGBT film for MSE Foundation. Why because its a good opportunity and its message is in alignment with the Foundation's mission: To Transform Homophobia using Television, Film and Media
5)Who would be the viewing audience of Film The Erotic Professionals?
In my opinion LGBT film is for everyone. This film in particular speaks about bisexualty, femininity, heterosexuality, gender and sexuality. The LGBT community needs more inclusion in mainstream society at large especially the transgenders to how their homophobia effects the LGBT community .
6)What is MSE Foundation about and what are your goals?
The mission is that we are about creating a nurturing and creative environment for the creation of lots of LGBT TV and film. THere's a lot of gay white male films and whats missing is the muticultural and minority GLBT experience. We invite writers, directors and creative professionals in to develop GLBT tv and film for all.
To find out more information about MSE Foundation go to http://www.msefoundation.org. The book I Rise-The Transformation of Toni Newman is available on amazon.com and webpage is http://www.tonidnewman.com. For more info on the film Erotic Professionals go tohttp://www.spiproduction.com. To find out how to be apart of this unique film emailspiproductions@yahoo.com.