1 New Opportunity for LGBT Media Makers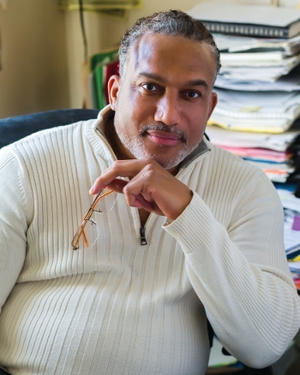 Shahid Manning is the founder of the not-for-profit Millennia Scope Entertainment Foundation, aiming to dispel homophobia by giving LGBT filmmakers a leg up in the entertainment industry.
How did Millennia Scope come to be?
I knew I wanted to come to Hollywood and try to put LGBT media on the map. That was at a time when it was very unpopular. Fifteen years later, we are in a situation in America where this is changing dramatically. We're now poised to be right in the midst of what I'm calling a renaissance, an explosion of LGBT media. That's what the nonprofit does for filmmakers of LGBT media; whether you're straight or gay, we're trying to be a location where filmmakers can come together and share their assets.
What's the main goal? 
Essentially, we want to eradicate homophobia using television and film, and as we get more funding, we'll have more programs. We do everything from branding to sponsorship to classes. We help filmmakers develop. The big difference between us and other entertainment nonprofits is we're actually building a pathway to the mainstream marketplace and the buyer community.
How can people get involved?
It's all about filmmakers, so they can contact us and see what we have available in terms of grants. Individuals who want to contribute can donate money, they can donate their time, they can decide to participate on the board—all of those things are welcome. They can contact us for information if they need help.
What advice do you have for filmmakers making LGBT media?
Don't stop! Stay in there and tell our stories so people can see who we really are from our perspective—good, bad, and indifferent. Images matter and help structure who we are, our morals and values, both individually and collectively. We need to get rid of this homophobia issue and get moving on to the fun and games!
What are your favorite LGBT performances now?
"The L.A. Complex," written by a Canadian man [Martin Gero]. It had two characters: one was a gangster rapper and another was a producer who ended up being his partner. It was so well done; the tension, the evolution of trying to figure out his sexuality and his identity and how he was raised—it was amazing. It should still be on television. On "Empire" there's a gay character, and a gay A-list director, Lee Daniels, created it. It's got all these wonderful textures going on and [Daniels] really does integrate sexuality so it's not the focus; it's expert. Of course the character in "Transparent."Jeffrey Tambor is doing a fantastic job on the transgender front—and so is Laverne Cox!